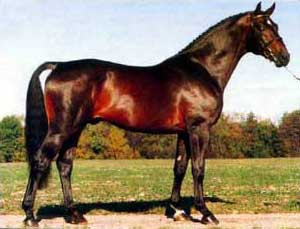 "How did you get Sweden to let that horse go?"
-Ulf Wadeborn, international Grand Prix competitor, 'R' judge, formerly of the Stromsholm Riding Academy in Sweden

Bayron passed away in October 2013 but we have frozen semen available.

Bayron 885 is a lovely combination of temperament, talent, and lineage. He is an impressive athlete himself, trained through Grand Prix. He began his FEI career as a seven-year-old at Prix St. George in Sweden. Bayron's light, elastic movement, natural engagement, and high rideability make him a joy to ride and train. Bayron is a lovely refining sire, but is also proven to cross very well with light type mares. He consistently passes along his movement, rideability, and lovely head/neck connection. For those reasons, he is also an appropriate cross for mares that have a bit of "temperament."


Famous Swedish Lineage
Bayron's pedigree reads like who's who for Swedish Breeding. Bernstein, Bayron and his two Bernstein brothers, Bolero and Ravell, rank in the top 15 of 37,000 European listed stallions in the BLUP, for dressage characteristics. BLUP stands for "Best Linear Unbiased Prediction" providing the most accurate and real compilation of all the information with which the individual's breeding value is computed.


Bernstein 761

Napoleon 625

Iran 533

Josephine 8620

Bristol Cream 13548

Kew Gardens xx

Bragansa 9664

Bali 17380

Ultrillo 432

Ernö

Anisett 60267

Benedictine

Gaspari 340

Ballerina 83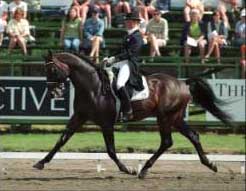 Proven Grand Prix Ability
Bayron performs all of the Grand Prix movements with lightness and ease. Bayron was trained and competed by Susanne Gielen, Head Trainer at Flyinge State Stud. (pictured at right)

1997 Third Place Championship in Prix St. George & Intermediare I in Falsterbo, Sweden. 2002 Won Championship in Skane, Sweden with Young Rider in Prix St. George & Intermediare I.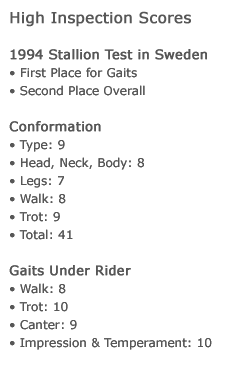 Beauty
Bayron is a beautiful, modern sport horse stallion. He is an elegant type and has a beautiful head/neck connection.

Rideability
Bayron is known not only for his high rideability (on which he scored a perfect "10" at his stallion inspection), but also his offspring's high rideability. Bayron is a forward thinking, confident horse who tries very hard to please his rider.

Movement
Bayron scored another perfect "10" on his trot which has exceptional cadence, swing, and impulsion. Bayron's movement is light and elegant with a lot of freedom in the shoulders. Most importantly, his movement is very easy to collect and extend. He is very tractable and easily connected. Bayron also excels in the lateral work.


Proven Sire of Grand Prix Ability Dressage
Horses Bayron has sired many successful FEI dressage horses. He has 250 listed offspring through 2008 in Europe. Some of his offspring include:


Boss (1995, Gelding)

Trained to Grand Prix in Sweden
2009 Competed by Adult Amateur Deb Klamen in her First Year at FEI

won rider her USDF Silver Medal
USDF Regional Championship at PSG AA
Midwest Champion at Fourth Level and PSG AA
SWANA All-Breeds HOY for PSG AA

Sorbina (1995, Mare)

1998 best 3 yr old mare in Sweden
1999 second place Dressage Finals of Breeders' Trophy
2000 represented the SWB in World Championship Young Horse Class

Bianca (1996, Mare)

1998 second place in Gaits at National Show for 3 yr. olds in Sweden
1999 won the talent search in Gaits at her mare premiere

Benjamin (1997, Gelding)

2003 competed in the World Breeding Championships Six Year Old Division for Sweden

Apollonia (2001, mare)


Bayron 885 / Apogee 27259

Scored Class I as a two year old in 2003
Received a Double Diploma for jumping and dressage talent/gaits in 2005
Received her Premium AB for the studbook, and has produced lovely offspring for Pembroke Farm





Other Offspring:
Stud Fees and Services
Frozen semen available. $300/breeding dose.

Video of Bayron


s



Contact us regarding stud service.